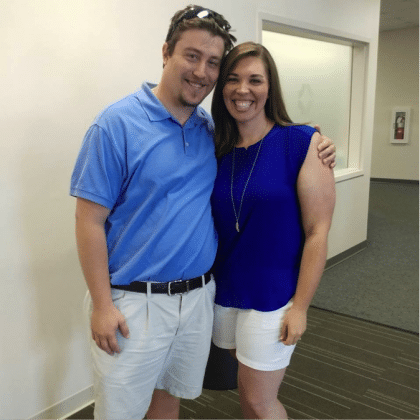 Timothy Seigh
Director of Next Gen. Ministries
Email: tims@rcumc.org
Cell: 540-632-2127
My name is Timothy Seigh but I go by Tim in casual settings, and this is my fiancée, Sarah Menshouse. We met while I was attending Asbury Theological Seminary (ATS) in Wilmore, KY, where Sarah was working as an Academic Advisor.
Our relationship began through intramural volleyball where we played against each other during the fall season of 2016. We became friends when she invited a group of us from volleyball out to see "Dr. Strange" towards the end of November. After that night, we were able to hang out during a few other group events in December but had our first "date" when she invited me to go along with her to the mall while she picked up her sister's Christmas present. While out shopping, I took her out for lunch and we chatted about a number of different things. One of my first questions to her was, "How many kids would you like to have?", and since that did not seem to scare her off, I asked her what she was looking for in a man. At that time she didn't really have an answer, but again she did not run off.
The night of the Student vs. Faculty volleyball game, I invited Sarah to come with me to a New Year's Eve praise and worship event that my Nigerian friends were hosting, and she accepted. Before going to the praise and worship event, we stopped by the home of my Indian friends (whom I consider family) for some traditional Indian food and fellowship. I remember her asking one of the Indian families how their Christmas had been. They responded with, "We do not celebrate Christmas," and admittedly I laughed just a little. After dinner, we went to the worship event and prayed in the New Year together. The service was all about being expectant towards God answering prayers, and what I didn't know at the time, was that Sarah was praying that God would be at work in 2017 to answer her prayers to get married and start a family.
After dating for a few months, I felt that she would be the woman I would share my life with. We began talking about engagement in the spring, and the first time we traveled to meet her parents at the end of March, I asked her father for his blessing on our engagement. Once I received his blessing, I knew that I was able to take the next step in making her my wife. Shortly after that trip we began attending a pre-marriage class at our local church in order to continue growing in our relationship. One of the first questions we encountered in the class was, "When is your wedding date?" which was funny considering we were not engaged at the time, but I knew we would be soon. There were a number of times throughout our dating when we were together that people assumed we were already married, and I would always chime in, "Not yet".
During the spring, we had gone and looked at rings a few times, and she had picked out the one that she liked. The week before my birthday, she had planned to take me out for dinner and I suggested that we go look at rings once more before dinner. Little did she know, I had already purchased the ring and was carrying it in my pocket. After dinner that evening on May 3, as we were walking back to her car I dropped to one knee and asked her to marry me. She was shocked at the question, but she did say yes. Afterwards she admitted that when I bent down at first, she thought my shoe was untied.
A few weeks after our engagement, I graduated from Asbury with my MA in Church Planting. Since then, we have had to travel to see each other a lot. I moved down to London, KY where I was working with a church plant, while she remained in Wilmore still employed at Asbury. Now that I have started working here and moved to Roanoke, it is even further for her to come and visit. But we are trusting that she will find a job in the Roanoke area and will be able to relocate here before the wedding. We intend to be married on November 11th of this year at Raleigh Court UMC. We hope that the members of the church would feel welcomed to attend the ceremony as we are becoming members of your church family.