Continuing to grow and deepen our relationship with each other and with God is something we believe should continue outside of Sunday morning. This is why we started MOSAIC.
Each week on Wednesday evenings, we will all join together for bible study, music rehearsals, and a free fellowship meal for all ages. Here is our Wednesday evening schedule:
5:30 – 6:30   Youth group meeting, adult bible study, and children's music rehearsals
6:30 – 7:30   Dinner and fellowship time
6:45 – 7:45  JuBELLation (adult handbells) rehearsal
7:45 – 9:15  Chancel Choir rehearsal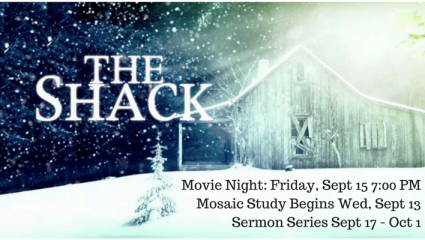 This study is based on the story and movie of The Shack. The Shack is designed to help people experience the life-changing goodness, grace and presence of God.
John Shockley will lead this study series.
Books are available in the office right now if you wish to start reading!
Did your child come with an instruction manual for parenting? We have not found any who did! Let's spend 8 weeks learning from a combination of 3 parenting methods plus the real life experience of a mother of 6! You will surely learn some ways to handle situations that will arise over the years.
Join Chris Landon for loving information on Parenting from the Heart.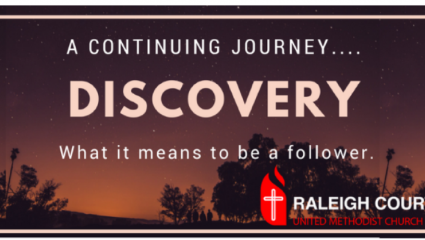 Whether you have been studying Christianity all of your life or it is brand new to you, the Discovery class will give you insight into the basics of our beliefs and faith. Bring your own questions to be discussed and bring an open mind to listen and learn.
Pastor Jun will lead this 8 week learning experience.
A Disciple's Heart "Growing in Love and Grace" plus A Disciple's Path "Deepening Your Relationship with Christ and the Church" Companion Readers will be used for this course and are available in the church office.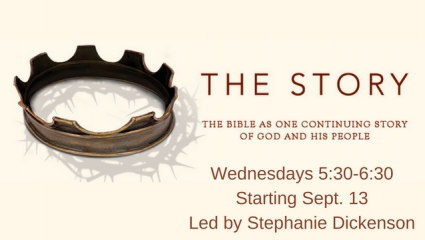 "The Greatest Story Ever Told" is more than a cliche. God goes to great lengths to rescue lost and hurting people. That is what The Story is all about – the story of the Bible. And like any good story, The Story is filled with intrigue, drama, conflict, romance, and redemption – and this story is true!
Stephanie Dickenson will lead us through this exciting adventure!
Books are available in the church office if you want to get a head start.
Frequently Asked Questions
Is Mosaic replacing Youth or Children programs on Sunday morning?
No. We want Mosaic to be complementary to our Sunday morning programs and hope to see everyone in the morning and the evening.
Can my child attend the events without coming to dinner?
Absolutely, yes. We recognize that schedules or diet constraints can make attending these dinners difficult. If it is better for your child to simply come to the program, we will be happy to have them just for the program at 5:30-6:30.
Do parents need to stay?
While we would love to have all the parents involved in a small group during this time,  please feel free to leave your Children with us for the evening. We want to minister to you and if just giving you some time off is what you need, we are happy to oblige.
Does this mean that the Children and Youth are together every week?
No. We have separate programs for Youth and Children.
How much will the dinner cost?
The meal is free for everyone. If you would like to make a donation to help offset costs, there will be a place to do so.
Will this program run all year?
No. While the Youth program will continue to meet in the summer, the Small Group Classes and Children's program will take the summer off.